Welcome to Dila Medical Laboratory - a company with 20 years of successful experience in the field of laboratory diagnostics in Ukraine.
Dila has always been trying to be a half-step ahead of its customers' expectations of. Our experienced employees are the most important part of the company's successful story and future perspectives. 12 PhDs among our staff work in harmony, share common vision and contribute a lot to the unique laboratory product.
Dila has rendered laboratory services for clinical trials for about 20 permanent clients, including leading CROs and pharmaceutical companies.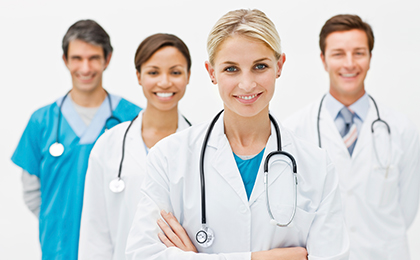 Dila has been providing laboratory services for clinical trials since 2001, covering each region of the country
Briefly about Dila experience in clinical trials for the last 5 years:
Central lab services in more than 130 trials;
45 000 Requisitions registered and reports released
More than 400 000 laboratory tests for clinical trials;
More than 400 investigator sites have been supported.
Management of studies is divided onto main areas:
Project management and site support team;
Data management;
Logistics services;
Laboratory testing;
All activities in these areas are regulated by company's Quality Management System based on ISO 9001, ISO 15189 standards, GCP and GCLP recommendations.
Project management includes:
Effective implementation of protocol requirements, trainings of involved personnel;
Preparation of laboratory manuals for investigators, Requisition Forms and shipping instructions;
Training of investigators upon Client's request
Design and manufacturing of protocol-specific and visit-specific lab kits, their shipment to the sites, resupply services;
Proactive collaboration with investigators, teaching of the details of sample collection, storage, shipping and analytes' stability, assistance in results interpretation
Laboratory services:
State of the art equipment by the world's leading manufacturers (Siemens, Abbott, Bio-Rad, BioMerieux) and dedicated qualified team enables to deliver reliable results in the following fields:
Cytology / Hematology / Urinalysis
Routine chemistry
Immunology
Serology
Coagulation
Microbiology
PCR / Molecular biology
Data management:
Preparation of study-specific predefined database meeting protocol requirements;
Results verification and authorization prior to reporting;
Data clarification;
Electronic data transfer in export data files that can be formatted according to specifications and software formats required;
Logistics services enable to guarantee fast turnaround time and appropriate temperature regimen during transportation:
Nationwide network of outsourced (international courier companies) and back-up staff couriers for samples' pick-up and shipment;
About 10 000 shipments annually from all the regions of Ukraine;
Shipments of AMBIENT, REFRIGERATED and FROZEN samples from the regions of Ukraine within 18 – 24 hours which ensures minimal risk for analytes' stability and fast result turnaround time;
Contingency options to ensure safe delivery and prevent sample loss
Delivery of samples on weekends and holidays
Why Dila?
The most experienced laboratory in Ukraine accredited according to international standards
High capacity for a big number of specimens
State of the art equipment and dedicated team
Fast result turnaround time;
Acceleration and high efficiency of patient recruitment;
Flexibility in meeting Sponsor's requirements
Cost effectiveness;
Complete site support;
Guarantee of the accuracy, completeness, timeliness of all the reported data
Archiving of all study related documentation
A notarized version in English of the accreditation certificate in accordance with the requirements of DSTU EN ISO 15189:2015 (EN ISO 15189:2015, IDT) can be downloaded here.